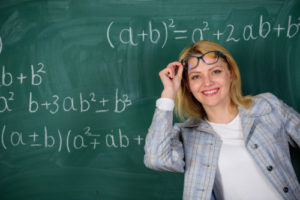 Whether you're heading into the new school year as a teacher, student, or parent, you're leading with your smile. Does it look good enough to earn you an A? Or is it time to work harder? Sometimes all you need is a little bit of cosmetic dentistry to get high marks – a professional teeth-whitening treatment could be all you need to earn extra credit with everyone.

Teeth Whitening for Teachers
You may be the most amazing lecturer, tutor, aide, or administrator in college, high school, elementary school, or preschool, but no matter how much you know or how much wisdom you have to impart, it all has to flow through your mouth first. And that means people will be looking at your teeth – a lot.
If you're embarrassed by the tooth stains you've accumulated from your coffee habit in the morning and your glass of wine at night, the lessons you plan to teach will be stained too. You don't want students to be distracted by your teeth so much that they miss half of what you're saying – and you don't want to give less of yourself than you can because you're too self-conscious.
With professional teeth-whitening, your teeth can be brightened in an hour at your Red Bank dentist's office. A customized teeth-whitening treatment gives you a super-bright smile that you'll be happy to reveal to anyone, and you'll look that much better in your position of authority when your smile is a permanent fixture, and you're confident about it.
Parents Deserve White Teeth Too
Maybe you're a class parent or volunteer. You're not only making an impression on the teachers and students around you, your performance affects your child too, whether you like it or not. So, if your kid often comments that you have yellow teeth – and, if you're a parent, it has happened to you – take heart. With age comes changing enamel, and your teeth might be far less bright than they once were. But don't despair.
Even if your teeth aren't perfect, even if they're crooked or gapped or otherwise flawed, if they're healthy and strong, teeth-whitening could be just the dental procedure that turns your smile up several watts. You'll feel a lot better mingling with the younger crowd when your smile is bright. And if you simply don't have time to spend in the dentist's office, whiten your teeth in the privacy of your own home while you're navigating class lists, stuffing folders, or making a volcano with your child.
Super-White Smiles for Students
No amount of brushing with whitening toothpaste before the first day of school is going to get your teeth as white as you want them to be. You may be entering college for the first time, pursuing continuing education, getting a higher degree, or defending your thesis, but you won't have your head in the books all the time. And it's important to remember that your smile is a separate thing from your academic contributions or accomplishments.
When it comes to education, it would be nice to think that your work speaks for itself, that if you have a 4.0 you've got that coveted leg up. But appearance matters too. One teeth-whitening treatment can give you a boost that shows you just how much every characteristic plays a role in helping you pursue your education and dreams. Give yourself the gift of a whiter smile.
Professional teeth-whitening is an affordable and impactful way to transform your smile, no matter what role you play in education. Make your appointment with Dr. Carole Sherrod Jewell or Dr. Pauline Robinson at Red Bank Dentistry to learn more about in-office and at-home teeth whitening so you can have a beautiful, white smile all school year long, and beyond.