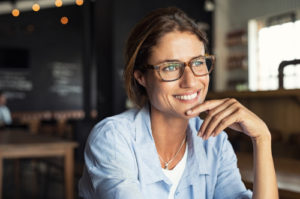 'Tis the season to be jolly and generous, and that includes being good to yourself. When is the last time you prioritized your own needs? Even though you may not have the time or budget to schedule your smile makeover right now, you can certainly make a wish list to work toward – and talk it over with your Red Bank dentist at your next checkup and teeth cleaning. You may be surprised to discover what you can afford, and just how much of an impact a few dental tweaks can have on your entire appearance.
You Dream of a Whiter Smile
A whiter smile is on most peoples' wish lists, especially when you reach a certain age and stains and discoloration just seem harder and harder to eliminate. Whether you're a coffee drinker, wine lover, or simply have the kind of tooth enamel that sucks up stains, there are always ways to whiten your smile.
Professional teeth whitening is the fastest, easiest way to get teeth that are shades whiter. Your dentist's powerful bleaching products truly blast away what is stuck in your enamel, allowing your teeth to shine bright. If stains are permanent, other cosmetic dentistry options will be put on the table, like porcelain veneers.
All You Want Are Less Annoying Teeth
Do you find that food is getting stuck in your teeth too often? Or maybe things have always been this way and you just can't take it anymore. You're tired of being self-conscious at every meal, worrying that something is lingering between your teeth.
A round of Invisalign treatment can align your smile and eliminate those gaps and crevices that plague you. Sometimes, cosmetic dental bonding, a porcelain crown, or a tooth-colored filling can take up that space. Only your Red Bank family dentist can tell you for sure.
You Wish for a Pain-Free Smile
If you are suffering from any sort of tooth or mouth pain, this is one smile makeover that can't and shouldn't wait. Tooth pain doesn't go away on its own – in most cases, it only gets worse. Decay that could be corrected with a simple filling, left untreated, could grow into an infection or abscess, leading to a need for more intensive dental work, like a root canal or even tooth extraction.
Living with mouth pain does not win you any awards – it only wins you suffering and, eventually, a bigger bill because you'll need more problems corrected than if you had just addressed your original problem at the start.
You Just Want a Beautiful Smile
We know it isn't always easy to go to the dentist, especially if you have anxiety about the work ahead or have had a bad experience in the past. You may worry about cost, the time it takes to get your dental work done, or pain you might endure.
You're in good hands with the gentle team at Red Bank Dentistry. Schedule your appointment with Dr. Carole Sherrod Jewell or Dr. Pauline Robinson to discuss the wish list you have for your smile and plan ahead for the smile makeover of your dreams.