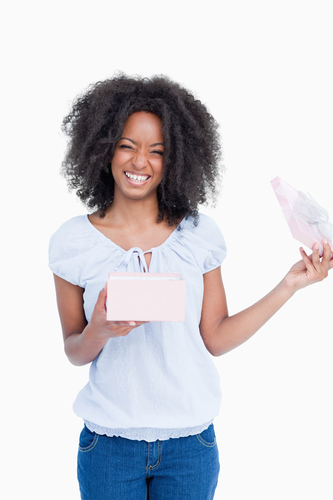 Whatever holiday you celebrate at the end of the year, there is always an opportunity to exchange gifts with family, friends, and coworkers. Maybe you love what you get, or perhaps you make good use of that gift receipt. Whichever camp you fall into, let's be completely honest: The only person who can truly get you the gift you want – a straight smile – is yourself. You can start now and feel like the best version of yourself as holiday parties, festivities, and celebrations get into full swing. You'll head into a new year with a brand new outlook on life, all because of a smile that's getting straighter by the day, thanks to Invisalign.
5 things you need to know before you wear Invisalign >>
Invisalign is the Gift of the Present and Future
If you're looking for the ideal subtle holiday accessory, Invisalign is it. You can wear it with any outfit, to any occasion, and no one will ever be the wiser. Invisalign makes it possible to straighten your misaligned smile completely under the radar. So even if you're kissing under the mistletoe or singing carols by the fire, you can pucker up and belt out those lyrics thanks to a smile that's improving every day.
Invisalign doesn't get in the way of the holidays. In fact, Invisalign will make the holidays even better. Invisalign is like a secret gift – you're straightening your smile as you purchase gifts, wrap gifts, give gifts, receive gifts. And you'll really find yourself looking forward to what's ahead in the new year: your brand new completed smile.
Invisalign does more than just straighten teeth >>
Your Finest Holiday Accessory: Invisalign
There is no need to wait until the new year begins to improve your smile. Far too often people say, "I'll do it when…" But that time never comes. If you are ready to invest in yourself, then just do it. You can be a stay-at-home parent, a professional, a student, a teen, an adult – every kind of Invisalign wearer is the right kind of Invisalign wearer, as long as you are dedicated to the treatment process. Age is no obstacle either. Whether middle age or barely out of your teens, there is never a wrong time to pursue Invisalign (though your cosmetic dentist may offer other options if they suit you better).
With Invisalign, during the holidays and every other time of year, you can:
Smile without anyone seeing your aligners
Pose for photos with a great big smile
Feel more confident and less self-conscious about your teeth
Some Invisalign-wearers even report losing a few pounds while wearing the aligners. Since you are not allowed to eat while wearing the aligners, it's necessary to make more selective food choices and not snack mindlessly. And that's a definite plus during the cookie- and sweets-laden holidays!
Beyond the basics: Your biggest Invisalign questions answered >>
When you're ready to discuss Invisalign and find out whether it's the right choice for your smile, make an appointment with Dr. Carole Sherrod Jewell, a certified Invisalign provider at Red Bank Dentistry in Red Bank, NJ.