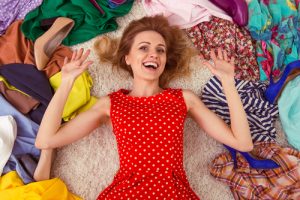 "All you need is less" seems to be the saying many people are living by amid the Marie Kondo fad of tidying up. A beautiful smile, however, is not and will never be a fad. In fact, you can't have too much of a gorgeous smile. Cosmetic dentistry and a smile makeover will get you to the point where your smile will spark joy every day, every time you look in the mirror.
Cosmetic Dentistry for a Joyful, Beautiful Smile
There are many cosmetic dentistry treatments available, but not every procedure is right for every person. The condition and health of your teeth now impacts what treatments are appropriate for your smile. Here are some of the most powerful ways to tidy up your smile and make it glow:
1. Invisalign Braces
If you have the patience to wait for a good thing, Invisalign is the right smile makeover for you. With nearly invisible aligners, you can watch your smile turn into a thing of beauty before your eyes as teeth move bit by bit into alignment. No one will ever know that you're wearing Invisalign and you can correct your misalignment discreetly and top it off with teeth whitening for a truly transformed smile that is full of joy.
2. Porcelain Veneers
Chips, stains, discoloration, gaps, misalignment – everything that mars your smile and everything you dislike about your teeth can be repaired with porcelain veneers. The super-thin shields of porcelain are affixed to the front of your teeth for a uniform but natural look. Stain resistant, durable, and long-lasting, veneers are the VIP's smile makeover of choice. And who doesn't love one thing with multiple skills?
3. Lumineers
When you want all the benefits of porcelain veneers without the invasive prep, enter Lumineers. Incredibly thin porcelain is affixed to the front of the teeth after only a light sanding and cleaning for a strong smile that has longevity. Marie Kondo would approve.
4. Teeth Whitening
If your teeth and gums are healthy, if they have surface stains and discoloration because of food, drink, use, or tobacco, a professional teeth-whitening treatment will have your tooth enamel gleaming. Powerful dental bleaching will scour your teeth of all the unsavory stuff that is affecting their color and shine, giving you a gorgeous, gleaming smile.
5. Dental Implants
There is simply no way around the fact that less is not more when it comes to smiles. You need all your teeth. If you're missing one or more teeth, you put your smile health in jeopardy. A missing tooth is not only aesthetically unpleasing, it can cause neighboring teeth to move around to take its place and change the shape of your face because there is no tooth root to support jawbone. Dental implants not only replace a missing tooth but its root too for a healthy, functional, natural-looking dental restoration.
Spark Joy with a Smile Makeover
If you really want to tidy up your life and your state of mind, go after a smile that makes you infinitely happy. Schedule your appointment with Dr. Carole Sherrod Jewell in Red Bank to find out what smile makeover is right for you.