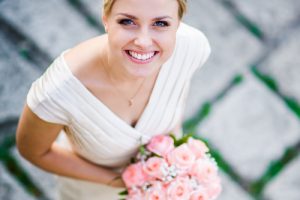 Whether you're planning a big wedding or an intimate gathering, you want your smile to look flawless for the big day. No matter where or how you celebrate, photos will be part of the magic and we hope you'll be smiling in all of them. We want you to look back on your wedding day and love everything you see – including your teeth. If you're not happy with them now, make time to schedule a smile makeover before you tie the knot.
Prioritize Your Smile During Wedding Planning
When you're getting ready to marry, you have a lot of things on your mind. For some people, there are two lists – one practical and one aesthetic. You're thinking about managing finances, merging two lives, and planning for the future. You may also be figuring out how to get in shape and reserving the best hair stylist or makeup artist to for your wedding day. There is one resource you don't want to overlook – your Red Bank dentist.
No matter how fit you are, no matter how flawless the gown and tux, if your smile is lacking or lackluster it will mar the entire feel of the day. A customized smile makeover will address every complaint you have about the appearance of your smile so you can feel good inside and out on the big day.
Quick Smile Fixes for Your Upcoming Wedding
If your wedding day is just around the corner and you don't have much time to spare to make big smile repairs and changes, no worries. There is always a way to tweak what you have and make your teeth look beautiful, including:
Professional teeth whitening: This is not the time to scrimp and purchase over-the-counter whitening products. You want a megawatt white smile that will glow out of your wedding photos. Rely on professional teeth whitening done in your Red Bank dentist's office or done using customized trays and professional gel in the comfort of your own home.
Tooth-colored composite fillings: You might be surprised to know just how powerful a smile makeover tool tooth-colored composite fillings can be. Sure, they repair areas treated for tooth decay, but they can conceal cracks, chips, gaps, and discoloration to make a problem tooth simply disappear.
Take Time to Get a Smile Makeover
If you have months or even a year or more before you walk down the aisle, your smile makeover can be a more involved process.
Porcelain veneers: This all-encompassing smile makeover procedure eliminates virtually everything you dislike about the appearance of your smile. Veneers are customized in size, shape, and color to conceal all aesthetic problems so that your teeth look straight, white, natural, and completely flawless.
Invisalign: Most patients need about a year, on average, to complete a course of Invisalign treatment. Some cases take longer and others require less time. Nevertheless, you'll be planning for your wedding all that while and the clear aligners will not get in the way of engagement duties, photos, and other activities while you wait for your super-aligned smile to emerge.
Ready to get ready for the next phase of your life? Schedule an appointment with Dr. Carole Sherrod Jewell or Dr. Pauline Robinson at Red Bank Dentistry to learn more about your wedding day smile makeover. Contact us today.