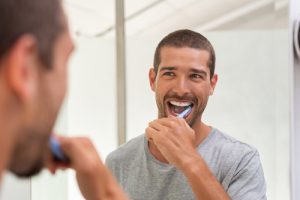 The pandemic has created upheaval in every person's life. The fallout from this chaos does not have to extend to oral health though. If you want to avoid pandemic-related dental problems, follow the dental care advice of your Red Bank dentist.
1. Don't postpone your dental check-up.
Everyone should see their dentist every six months for a teeth cleaning and dental exam. You may feel like postponing these appointments until the pandemic is over is the safe thing to do, but you actually put your oral health at risk with this choice.
Your Red Bank dentist's office has always been a safe and sanitary space. Now, we disinfect even more carefully and take extensive precautions to ensure the health and safety of our patients and employees.
2. Acknowledge dental problems.
There's a sharp pain shooting through a certain molar every time you have a cold beverage. There's a toothache that just won't go away. Your gums are red and swollen. You have a sore jaw and morning headaches that show you're grinding your teeth at night. Your mouth lets you know when something is wrong – don't ignore the signs.
Dental problems do not go away on their own, but they can always be fixed with your Red Bank dentist's help. If you think you can wait until your next appointment or "after the pandemic is over," don't put that kind of pressure on yourself. The longer you wait to have an existing dental problem dealt with, the bigger a problem it will become and the bigger repair that will be necessary.
3. Take good care of your teeth.
If you don't want to go to the dentist more than necessary – pandemic or no pandemic – prioritize your oral health every day. And make your family's oral health a priority too. Your kids don't want to spend extra time at the family dentist either, so help them keep their teeth cleaner than ever. Or brush and floss at the same time and develop a routine that you both look forward to and that keeps everyone's teeth and gums that much healthier.
Plenty of great things can come out of living in a bubble – new family dental care traditions can be one of them.
4. Know how mental health can affect oral health.
Depression and anxiety have increased since the pandemic began. Neglecting to treat these conditions or thinking that they'll go away with time is dangerous for your entire well-being, including your oral health.
People who are feeling depressed may find it difficult to keep up with their usual oral hygiene routine, leaving their teeth susceptible to damage. Without proper brushing and flossing, bacteria and food particles will set up shop and, inevitably, you will be forced to go to the dentist for a tooth-colored filling, root canal therapy, or even an extraction. Gum disease can settle in and grow over the months that you do not tend to your teeth properly.
If you are being treated for depression or anxiety with medications, they may give you a dry mouth. Lack of saliva means your teeth are not being "washed" consistently and are now living in an environment that is ripe for decay to develop.
Worried about your teeth and gums? Just need to schedule your regular check-up? Schedule an appointment with Red Bank dentist Dr. Carole Sherrod Jewell or Dr. Pauline Robinson.