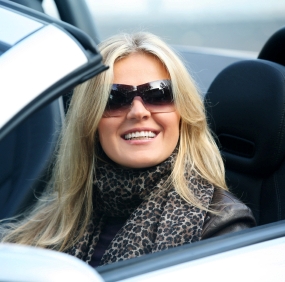 Dentures are a popular solution for people who have missing teeth, and they work well for the right individuals who are prepared to handle the daily demands that come with wearing dentures. Some men and women, however, want and need a permanent alternative to dentures that requires nothing more than brushing, flossing, and regular dental visits for upkeep. Enter dental implants.                      
Missing teeth can make life miserable. You're self-conscious. You have food limitations. It just doesn't feel good to have holes in your smile. And missing teeth age you. Without the support of your teeth in your jaw, your face can develop a hollow or sagging look. You don't have to live with this. There's a cosmetic solution that can change your smile in just a few visits to your dentist.
Anti-aging dentistry is the fountain of youth >>
How Do Dental Implants Work?
Dental implants look like natural teeth. They give you a brand new smile that isn't going anywhere because the dental implants act as artificial roots that are surgically attached to your jawbone with the prosthetic teeth attached to the implant. This cosmetic dentistry solution is staying put, and there is no need for adhesives like dentures.
X-rays and impressions are the first step of dental implants as your dentist must evaluate the bone and gum tissue of your mouth before determining the spacing needed for the implants. The implant is placed into the bone and, in some cases, the post that will hold the artificial tooth can be also be placed at this time. Once your mouth has healed, your new teeth will be fitted to the post.
Your smile can impact your career >>
Benefits of Dental Implants
Besides restoring your teeth and giving you a white, beautiful, natural-looking smile, dental implants improve your ability to chew and speak. Think of all the foods that you aren't able to eat with missing teeth – crunchy veggies and fruits, or that mouthwatering steak. And opting out of these foods isn't always because of missing teeth, it's the fear that the teeth beside the missing teeth are also in danger of being lost.
It follows, then, that dental implants will improve your overall health by allowing you to eat the full range of foods necessary to keep your body and mind healthy and thriving, and by improving the digestion of these foods thanks to the ability to chew thoroughly. What will also flourish is your self-esteem. A brand new smile is hard to keep under wraps, and why would you want to?
Are You a Candidate for Dental Implants?
Many people choose to suffer with missing teeth for a variety of reasons. Maybe they're embarrassed by their condition. Or perhaps they don't want to deal with dentures. They may have a fear of the dentist, which is what led to the missing teeth in the first place. Whatever the reason, it's not good enough. You can change your smile with one decision and a practiced cosmetic dentist. Schedule your consultation with Dr. Carole Sherrod Jewell in Red Bank, New Jersey, to discuss the possibilities for restoring your smile and whether you're a candidate for dental implants.