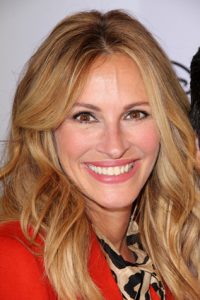 Plenty of people visit their hair stylist, photos of celebs at the ready, requesting a hair makeover that will help them look like Jennifer Aniston or Brad Pitt. But it just so happens that a great deal of people visit their cosmetic dentist with the same kind of requests – they want a smile makeover that channels a megawatt celebrity grin.
The Most Notable Celeb Smile
The gold standard of celebrity smiles belongs to Julia Roberts. With her wide mouth and straight teeth, Julia's smile is easily recognizable and one of her most marked characteristics. Maybe she's had cosmetic dentistry done to achieve such a smile – whether it's tooth whitening, or whether she invested in porcelain veneers or Cerinate Lumineers is anyone's guess. And that's the beauty of a well-done smile makeover: It should look so natural that you can't tell whether it's organic or edited.
Celebrity Smile Makeovers
Celebrities are not typical people. And they're not necessarily born beautiful (well, some of them are). They adjust their appearance to suit their needs and to keep themselves looking good for film, television, photos, and appearances. Take a look at Ben Affleck in Good Will Hunting. The short teeth he sported then were part of a very different smile from the one he flashed in his leading-man role in Gone Girl.
Tom Cruise's smile is well-known, but it's gone through several adjustments to get it as straight as it is now, including braces and, no doubt, whitening treatments. He's been open about his dental work, as have other big names. Some celebs are quieter about their aesthetic changes. All we have to say is: Denzel Washington, Demi Moore, Hugh Laurie, 50 Cent, George Clooney, Catherine Zeta-Jones, and Nicolas Cage. And no matter a celeb's age, there is never a wrong time for a smile makeover – look at Miley Cyrus and Morgan Freeman.
The True Benefit of a Smile Makeover
Some celebs have had such longevity that you forget they once had less-than-perfect teeth. Or they have had such good cosmetic dentistry done that only then-and-now photos evidence that they didn't always have such a beautiful smile. A celebrity's livelihood depends on how they look – but so does yours. A good smile can enhance your career, land you a promotion, and make you look smarter, wealthier, and healthier. And that can only be a boost to your professional and personal life.
It's also the attitude that accompanies your smile that makes a difference. The most important lesson to learn from someone like Julia Roberts is to be so proud of your smile that you want to flash it at everyone, throw back your head and laugh loud and long. If your current smile doesn't make you feel comfortable doing that, then it's time to consider why you're hiding your teeth – and what can be done to help you gain that confidence.
Sometimes all it takes is teeth whitening to give you a celeb-worthy smile. Only your cosmetic dentist knows for sure. So whether you covet the smile of Halle Berry, Sofia Vergara, Anne Hathaway, or Matthew McConaughey, schedule your consultation with Dr. Carole Sherrod Jewell in Red Bank, New Jersey, to get your customized smile makeover plan.