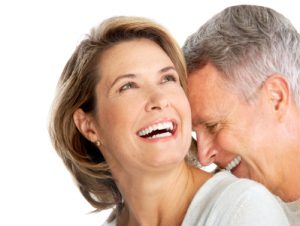 You can dress younger, trade in the mini-van, or go under the knife for plastic surgery. You can get a new hair style, slather on the moisturizer, or invest in age-defying makeup. But the one thing that can immediately make you look younger is a brand new smile. This is the era of anti-aging dentistry, when people are realizing that dermal fillers and face lifts only go so far, and a healthy, beautiful smile is what can really help you capture that elusive fountain of youth.
Anti-aging dentistry is a long-lasting and minimally invasive way to look more youthful. If you think Botox is the only way to even out wrinkles and plump up sagging skin, think again. Correcting your smile's flaws and investing in restorative dentistry or cosmetic dentistry can revitalize your appearance and make you look younger, naturally. Here's how:
Plastic surgery isn't the only option for reversing the signs of aging. Cosmetic and restorative dentistry can be your ticket to looking younger, feeling better, and grinning more widely than you ever have before. Correcting even the smallest flaws in your smile can revitalize your appearance and your lust for life. Contact Red Bank Dentistry to schedule your free initial consultation and develop a customized treatment plan for a new you.