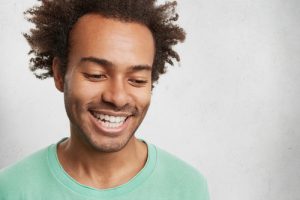 Many people underestimate the versatility and longevity of porcelain crowns. Modern dental crowns are strong, natural-looking, and can upgrade your smile from so-so to amazing.
Can a Porcelain Tooth Crown Fix Your Dental Problem?
Unsightly teeth can make you self-conscious, but you don't have to undergo major dental work to get your smile back into working order and looking complete.
Here are five of the most common dental problems that porcelain tooth crowns can fix:
1. Infected tooth
When your tooth is infected to the point of needing root canal therapy, a crown is used to cover the affected tooth after the procedure. A crown prevents any bacteria or food particles from entering the tooth, plus it covers up the tooth that had to be sanded down to make the root canal possible. When both procedures are complete you'll have a healthier tooth and one that will look natural thanks to the customized crown.
2. Misshapen tooth
If your tooth is healthy but it just doesn't look appealing, a porcelain crown can correct the aesthetics by hiding a small tooth, a tooth that erupted oddly, or a tooth that stands out from other teeth because it looks so different. The simple concealment of one tooth that makes you self-conscious can transform your self-esteem.
3. Fractured tooth
If your tooth is significantly damaged, it is more susceptible to further damage and infection. A porcelain crown acts as a cap against any threats to the health of your tooth. The crown not only protects the tooth, it restores it to its original shape and size so it looks normal and like nothing ever happened to it.
4. Missing tooth
How can a porcelain crown fix a missing tooth is there is no tooth to affix the crown? Easy. Combine the crown with a dental bridge. A fixed dental bridge is usually made of metal and porcelain and "bridges" the gap between two teeth. The bridge is made of an artificial tooth or teeth and anchored on either end by porcelain crowns so this entire restoration completes your smile, conceals the problem of a missing tooth, and prevents nearby teeth from moving around to fill the hole in your smile.
5. Filling problems
If you have a cavity but it's too large for the tooth to be filled, a porcelain crown can be used to cover the tooth after the decay has been removed. If you have a broken filling, repairing it and replacing it can be a bigger job than the original filling. A crown can restore your tooth and eliminate the need for another composite filling repair.
Find out how a porcelain crown can work for your oral health problems. Schedule your appointment with Red Bank dentist Dr. Carole Sherrod Jewell.