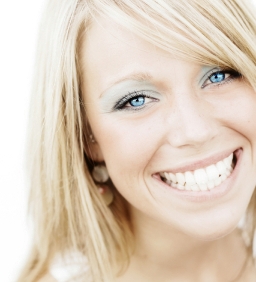 Stained teeth can be whitened (most of the time), and gapped or misaligned teeth can be closed with orthodontia or Invisalign (most of the time). Chipped or broken teeth however, need to be replaced. If you're dealing with any or all of these oral health concerns, there are two versatile cosmetic dentistry solutions that can give you a new smile in just a short time: porcelain veneers or Lumineers.
What Are Porcelain Veneers?
Veneers are thin, tooth-colored pieces of porcelain that cover your natural teeth. Porcelain veneers are custom made and shaped to fit your mouth and complement your appearance. This cosmetic dentistry solution also ensures that your new smile will be strong – no more worries about breaking a tooth mid-meal.
While teeth whitening is a popular treatment option for discolored teeth, in some cases the stains on teeth cannot be completely removed. Porcelain veneers make it possible to get that white smile you've been craving.
For people who want to avoid spending time on orthodontic treatment but who still want to fix misaligned teeth or gaps between teeth, porcelain veneers are the quick, long-lasting solution.
Lumineers: A Veneer Alternative
If you're one of the millions of people who dread the dentist's chair but still want to rejuvenate your smile, Lumineers are a popular, less-invasive alternative to porcelain veneers. Lumineers are also made of porcelain but they are much thinner which makes them easier to apply. The need to shave down any of the natural tooth structure for application is unnecessary with Lumineers
While porcelain veneers are natural-looking, Lumineers can be even more closely color-matched to your existing teeth so that they complement your skin color and
New Teeth in Two Visits
Whether a patient chooses porcelain veneers or Lumineers, this cosmetic dentistry solution can be completed in just two visits to Red Bank Dentistry. Contact us today for your free initial consultation and to learn whether you're a candidate for porcelain veneers or Lumineers.