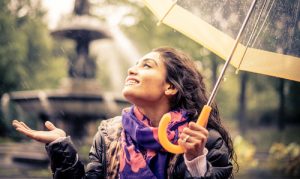 The month of March doesn't seem to be showing many signs of spring yet, but there's no reason you can't focus on cleaning up your smile. The weather will catch up eventually. This time of year is a great opportunity to refresh yourself and feel better about how you look just in time for the warmer months. It'll be a wonderful summer ahead when you use the springtime to upgrade your teeth with a smile makeover.
Why Spring Is a Good Time for a New Smile
Plenty of people make resolutions at the start of the new year. In February, we're hunkered down in the heart of winter, braving the cold and attempting to stay good on our promises to ourselves. In March, there are two options – stay huddled up or think big, think of what you can accomplish even if your resolutions fell flat, think spring.
Spring is a time of new growth. The snow is melting, the temperatures are rising, and all you want to do is go outside and soak up the fledgling warmth and sun. Will you smile wide when you're out there? Will you immediately feel self-conscious about your teeth? If it's the latter, then it's time to figure out what kind of smile makeover gels with your goals for hot weather.
Smile Makeover Goals for Warm Weather
If you want whiter teeth, you have several cosmetic dentistry options. Teeth whitening, of course, will get your teeth shades whiter if they have the kind of stains that can be bleached away. If the discoloration is permanent, porcelain veneers can cover up all manner of imperfections and give you a beautiful, white smile.
If you want straight teeth, Invisalign braces will give you an aligned, healthy smile. A course of Invisalign takes about a year to complete, on average, but you'll start to notice a difference in your smile shortly after treatment begins. Plus, the nearly invisible aligners make it impossible for anyone to know you're wearing braces. Win-win.
If you want to cover up unsightly teeth, porcelain veneers are the best bang for your buck. They conceal every imperfection in one swoop without the need for multiple cosmetic procedures. If you have just one or two damaged or oddly shaped teeth, porcelain crowns can cover them up, restoring functionality and giving you a natural-looking tooth to blend with the rest of your smile.
If you're experiencing pain, it's important to know that no matter how beautiful the weather, tooth pain will not go away on its own. Dental intervention is necessary when you have a toothache, and if you're experiencing swelling, bleeding, or other problems, the issue could be far bigger than a cavity.
If you don't know what your smile needs, visiting your Red Bank dentist is the best place to begin for your smile makeover. Getting recommendations about what's right for your oral health problems will give you options to consider before hitting the green light.
Schedule your appointment with Dr. Carole Sherrod Jewell in Red Bank to start the new season off right and get the flawless smile you've always wanted.