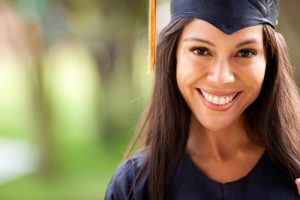 Graduating with a degree in hand and the future ahead of you is invigorating, exciting, and terrifying. Whether it's a high school diploma, college degree, or further education, completing your studies is a reason to celebrate. There is no better way to step out into the real world than with a new smile from your Red Bank dentist leading the way.
Build Your Resume with a New Smile
Entry level employees must start somewhere, but it can feel impossible to stand out in a crowded field. Seasoned employees who have gone back to school to make themselves more marketable need to prove that they're just as worthwhile a candidate now as they were way back when.
Sometimes, your education and experience aren't enough. Sometimes, a potential employer expects more from you. Employers look for the perfect candidate for a job. They want the person with that X factor, that desirable trait that just makes them ideal for the position that's available.
Sure, looks shouldn't matter when it comes to being qualified for a job – but they do matter, especially if you're regularly in front of people, conveying a message or sales pitch, or working up-close-and-personal. Your smile can be the difference between success and failure. If you're looking for a priceless graduation gift for yourself or a worthy graduate, it's time to consider a smile makeover.
Hire a Red Bank Dentist for Cosmetic Dentistry
The gift of a smile makeover doesn't say, "You have bad teeth." Instead, the sentiment conveys the message that, "Hey, teeth are important. Here's a way to make yours look as good as possible so you can get ahead in your career."
Cosmetic dentistry and smile makeovers don't have to be involved or expensive to make an impact. Teeth whitening is an affordable smile makeover option that can make even imperfect teeth look perfect. If you are investing in higher-end cosmetic dentistry, porcelain veneers make people look like a VIP before they've even reached that status. Even replacing silver fillings with tooth-colored composite fillings can even out your smile and make it look healthy and natural.
Ultimately, you want your teeth to show that you're capable, attentive to the details, and worth betting on for the job you're seeking. If you're a mentor or you're giving yourself a graduation gift, along with beautiful teeth comes incredible self-belief. When you know you look good, you'll carry yourself with confidence and show others that you are worthy of believing in and worthy of the job you're seeking.
Make graduation a truly memorable occasion with a smile makeover. Contact Dr. Carole Sherrod Jewell, Red Bank dentist, to schedule your appointment and invest in a career-making new smile.