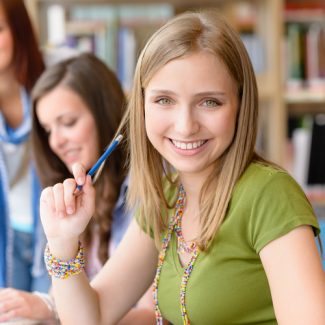 It's easy to get distracted in August and September by back-to-school needs. If you're a parent, student, or teacher, your focus isn't likely to be on your teeth. But maybe you're thinking about school photos and making a good impression. If you want to get the school year off to a great start, it's time to make your smile a priority and see your Red Bank dentist.
Straight Teeth for Students
Braces are the bane of adolescence for many tweens and teens, but they don't have to be. Many teenagers qualify for Invisalign braces, and that can make all the difference between a mediocre school year and an excellent school year.
Teens need every self-esteem boost they can get. If the idea of braces makes them squirm with negative anticipation of the teasing they might have to endure, the drama can be eased with braces that are nearly impossible for anyone to detect.
If you're concerned that your teen isn't responsible enough for Invisalign, there are special markers on the nearly invisible aligners that show wear – if the Invisalign isn't being worn properly, your Red Bank dentist will know. But teens are proven to be excellent Invisalign wearers – they recognize the gift they have been given and are reluctant to ruin the opportunity.
A White Smile for Teachers
Teachers are at the front of the classroom every day. Whether teaching in preschool, elementary school, middle grades, high school, or at the college level, how you look matters. Your students (and parents, and administrators, and fellow teachers) are judging you on your appearance, whether you like it or not, and that includes your teeth.
Cosmetic dentistry may be the right smile move to get you in tip-top shape for a stellar school year. If you need coffee to get you started or get you through every school day, your teeth may be riddled with stains. Professional teeth whitening can eliminate any trace of coffee dependency. If you have stained and crooked teeth, Invisalign and whitening could be the right combo, or you may be a better candidate for porcelain veneers, one of the most versatile cosmetic dentistry treatments that correct multiple aesthetic problems at the same time.
A New Smile for Parents
Have you been focusing on your kids and ignoring your own needs? When they're back in school, you have a little extra time to take care of yourself, and that includes your oral health.
Maybe you've been putting off your dental cleaning and exam or have suffered with tooth pain. Perhaps you've thought about a smile makeover but have yet to make a move. Now is the time to pursue cosmetic dentistry, restorative dentistry, or Invisalign to get the beautiful smile you've always wanted.
Your Red Bank dentist will help you take the right path to get to the smile you want. Taking care of your teeth is the smart move, no matter what time of year it is. Contact Dr. Carole Sherrod Jewell, general dentist, cosmetic dentist, and certified Invisalign provider in Red Bank, NJ, to schedule your appointment.