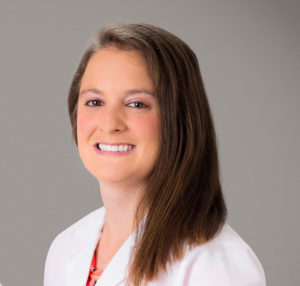 For nearly 30 years, Dr. Carole Sherrod Jewell has practiced general dentistry, cosmetic dentistry, restorative dentistry, and orthodontics in Red Bank, NJ. Her regular patients are familiar with Pauline Robinson, Dr. Sherrod Jewell's niece, who has been a fixture at the practice for years – but now Pauline joins Red Bank Dentistry in a new way, as Dr. Robinson, general and cosmetic dentist.
The Path to Becoming Dr. Robinson
It was at age 8 that Dr. Robinson decided she wanted to be a dentist like her aunt, an impressive declaration for a child so young. But it was an aspiration that Pauline made a reality. She began working at Red Bank Dentistry as a young teen, pulling charts, answering the phone, and cleaning exam rooms. As she matured, Dr. Robinson learned to assist, pour models, manage the front desk of the practice, and train support staff.
While earning her undergraduate degree at Rowan University, Dr. Robinson apprenticed at the side of Dr. Sherrod Jewell who gave her early training in dental procedures and treatments. As she pursued her master's degree in oral biology from New York University and then her dental degree from New York University Dental School, these one-on-one lessons provided Dr. Robinson with a great advantage in her studies.
Dr. Robinson has lived and breathed dentistry since she was a kid, and her education and career path exemplify this goal. At NYU Dental School, she sat on the board for the American Dental Education Association, served as a student ambassador and peer mentor, participated in the leadership track, and worked as a teaching assistant for younger students. After graduation, she continued her education by completing a residency at Mount Sinai Hospital in New York City.
Voted "Student of the Year" by her peers during her senior year, Dr. Robinson excelled not only academically but in one of the most important areas of dentistry – compassion. She was honored with the David B. Kriser Award for Compassion by her faculty and, as any dental patient can attest, seeing a dentist who is kind, compassionate, and empathetic to their dental needs, woes, and worries makes the difference between a good dentist and a great dentist.
Make Your Appointment with the Newest Red Bank Dentist
In her dental program at NYU, Dr. Robinson focused on dental implants, completing an honors program in implantology. Dental implants are the backbone of dental restorations for many dental patients. Those who have lost teeth due to gum disease, injury, or damage have their smiles rebuilt with permanent dental implants that look, feel, and work just like natural teeth.
Dr. Robinson is proud to offer this important procedure to her new patients at Red Bank Dentistry. She also offers weekend hours on both Saturday and Sunday, making it easier for patients to fit important dental care into their busy schedules.
It has been Dr. Robinson's lifelong goal to become a dentist at work at Red Bank Dentistry. Growing up in the Red Bank neighborhood with her mother and aunt, she feels connected to the neighborhood and its people and is thrilled to care for them by coming back to the place she has always called home.
Make your appointment with Dr. Pauline Robinson or Dr. Carole Sherrod Jewell at Red Bank Dentistry. Contact us to schedule your visit and walk through the pink door into good oral health.